Mon Ice Cream 5000 Puff Disposable Vape:
Monvaper introduced the new Mon Ice Cream 5000 Puffs disposable vape. Mon Icecream vapes are disposable and have an excellent shape that provides an easy grip. Mon Ice Cream has the function of offering smokers an alternative to stop using conventional cigarettes and adhere to disposable Pods. With a practical and efficient solution, you will have a delicious aroma to taste at any time. Mon Icecream Amazing Vapes come in various flavors and promise to surprise you from the moment you open the box to the first pull. Now introduce the 5000 Puff disposable version for you to enjoy for much longer. You will not miss that.
As Mon Icecream 5000 puff disposable vape is big in capacity and size, they contain a rechargeable battery for better performance and long-term durability. Now you can enjoy your longest-lasting disposable Amazing Vapes at a very reasonable cost. Monvaper provides all vapes at an economical cost than the competitive market price. our brand new Mon 10,000 puffs– x10 bulk at wholesale price and We can provide one-stop OEM-ODM services.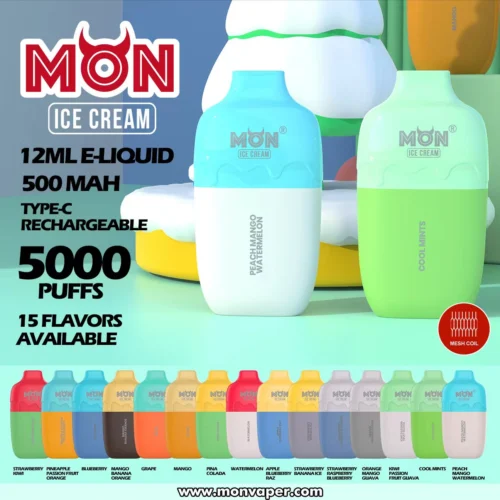 5000 Puff Disposable Amazing Vapes Features:
Puffs: 5000

Coil Type: Mesh coil

Tank: 12ML

Flavor: Multi flavors

Airflow: Adjustable
ICE CREAM VAPE Flavors:
Grape

Blueberry

Mango

Watermelon

Apple Blueberry Raz

Pina Colada

Orange Mango Guava

Cool Mint

Strawberry Raspberry Blueberry

Peach Mango Watermelon

Pineapple Passion Fruit Orange

Mango Banana Orange

Kiwi Passion Fruit Guava


Strawberry Banana Ice 

Strawberry Kiwi
If you would like to purchase some as samples to try, you can place an order from our designated global distributors::mondisposable.com / disposablepod.com