Experience vaping like never before with X10 10000 Puffs, the game-changing pre-sale vape device by Monvaper. Designed to redefine your vaping journey, the X10 delivers unparalleled performance, extended puffs, and an unforgettable experience. Be among the first to own this revolutionary device by participating in our exclusive pre-sale.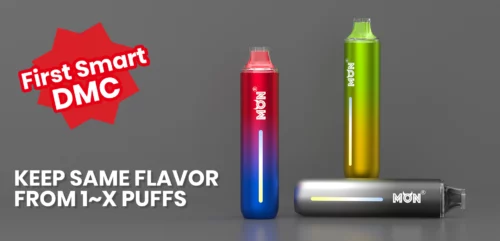 Unleash the Power of X10 10000 Puffs:
Prepare for the next level of vaping with X10. Featuring a sleek design and cutting-edge technology, this high-performance device takes your vaping experience to new heights. Enjoy long-lasting sessions with its massive 20ml tank capacity, eliminating the need for constant refills. Embrace the freedom and convenience that X10 brings to your vaping lifestyle.
Unmatched Battery Life:
Never worry about running out of power with the X10 10000 Puffs 's rechargeable 800mAh battery. Whether you're on the move or enjoying a relaxing session at home, the X10's battery longevity ensures uninterrupted pleasure. Stay confident knowing that your device can keep up with your vaping demands.
At the core of X10 lies the revolutionary Smart DMC Technology. This advanced system optimizes flavor delivery, vapor production, and overall performance. With dual mesh coils and Smart DMC Technology, each puff is filled with exceptional flavor and satisfying vapor. Experience the superior performance and consistency that Smart DMC Technology brings to your vaping sessions.
Pre-Sale Exclusive:
Participate in the X10 pre-sale to gain early access to this groundbreaking device. Be one of the first to experience the future of vaping. As a pre-sale customer, you benefit from being at the forefront of technology, securing your X10 before it hits the mainstream market. Don't miss this opportunity to own a device that will revolutionize your vaping experience.
Limited Time Offer:
To show our appreciation, we are offering an exclusive discount for pre-sale customers. Take advantage of this limited-time offer to own the X10 at a special price. Act now, as this offer won't last long. Join the vaping revolution and be one of the first to experience the X10.
Secure Your X10 Today: Securing your X10 is simple. Place your order during the pre-sale period, and our team will ensure you receive your device as soon as it becomes available. Elevate your vaping journey with X10, the device that combines power, performance, and innovation into one extraordinary package.
Conclusion:
Don't settle for ordinary vaping devices when you can elevate your experience with the X10. Powered by Smart DMC Technology, boasting an impressive tank capacity, and featuring unmatched battery life, the X10 is the device you've been waiting for. Place your order today and join the vaping revolution. Experience the future of vaping with X10 by Monvaper.