The sale of nicotine products is strictly prohibited on Amazon. We get asked frequently Can I buy disposable vapes on amazon? The answer is relatively simple to provide: No. The sale of e-cigarettes and disposable vape is prohibited on Amazon.
You cannot buy vapes on Amazon in the US. This includes various kinds of vape supplies, such as mods, e-liquids, and sub-ohm tanks.
Amazon will block any supplier trying to sell these items, and if a seller consistently breaks this rule, they are at risk of being suspended or even banned. After a seller is banned, they have a very slim chance of getting reinstated. The long list of banned items includes the following vape and tobacco-related products:
Cigarettes
Cigars
Smokeless Tobacco
E-Cigs
Accessories for vapes and E-cigs
Disposable vapes
Vape Batteries
Refill Liquids
Why Does Amazon Not Sell Vape Products?
At Monvaper, we frequently get asked if our products can be purchased on Amazon. We love Amazon as much as the next person, but unfortunately, our products fall under Amazon's prohibited item list. Quite frankly, Amazon has a very strict ban on these products, and there is no telling when these rules will change. Currently, vapes are in regulatory limbo, and many companies don't want to touch them until they are fully regulated. Until the FDA releases more data on vaping and the health effects associated with vaping, it is likely that Amazon and other online marketplaces will tread carefully.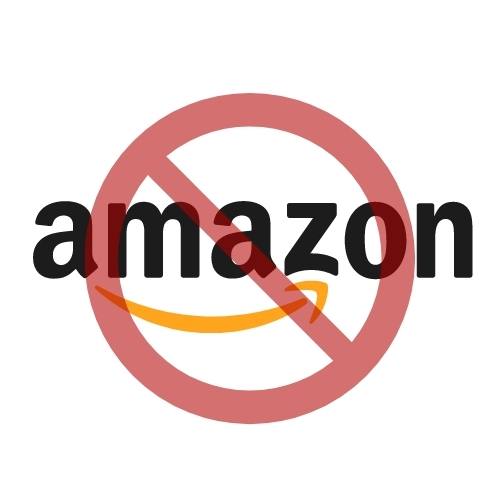 It doesn't mean that you can't find vapes and vape-related products on Amazon. However, if you find these items, they are probably miscategorized, and Amazon will eventually find them and take them down. We highly recommend staying away from these sellers because the product is probably poor quality and without any warranty. (a great warranty is a must for electronic vapes!).
Bottom line is to stay clear of any vape products you see on Amazon, as the sellers aren't trustworthy. and the product reviews clearly show the lack of quality in the products. You should buy your vape supplies from a respected manufacturer and protect yourself from fraud!
Buy Mon G20 vape plus bulk at wholesale prices from Monvaper's official site.
Do you know when Amazon is going to start selling vape pens? Nope!
We have not heard of any plans for Amazon to start allowing vape pen or e-juice sales on their website. When and if they do, we will be there, offering our fantastic products in that venue as well. In the meantime, we strongly encourage you to take a look around, check out the different products we have to offer, and give some of them a try.! There may be rules and regulations in place on Amazon to ban sales of Vapes and Ecigs because the FDA laws and regulations have not officially been set in stone.
How do I find high quality disposable vape stuff?
Here at Monvaper Wholesale shop, we seek out only the best quality products.
We are extremely picky about the products we sell. If it's not good enough for us to use frequently, and if it's not a product or a flavor that we look forward to picking up and vaping, then it's definitely not good enough to send to you. This insistence on quality is just part of what makes our customers trust us so much. They know that when they get a product from Monvaper. it is going to meet their needs and fulfill their expectations.
If you are wondering whether any particular product is going to meet your needs, take a look at the reviews our customers have put up for that product. We have a review process similar to Amazon's where anyone who has bought the product can post a review about how it works for them and how they like it. So you can see exactly how other customers, just like you, have felt about that exact vape pen, starter kit, e-juice flavor, etc., and get an idea about how well you will like it.
Try out some New series of Disposable pods like Mon M4 Mega Disposable Vape at wholesale price.