Vaping has become a popular way to consume nicotine, especially among people who are trying to quit smoking cigarettes. There are many different types of vaporizers and e-cigarettes on the market, and each one has its own pros and cons. In this blog post, we will be discussing the number one disposable vape. We will explore what makes this vaporizer so popular and whether or not it is the right choice for you.
The number 1 disposable vape is the Mon M8.
The Monvaper Mon M8 is the number 1 disposable vape for a number of reasons. For starters, it is incredibly easy to use. Simply unpack the vape and start vaping. The Mon M8 will automatically activate and heat the nicotine salt liquid inside the pod to create vapor. There are no buttons or settings to fiddle with, making it ideal for those who just want to pick up and go.
Another reason the Mon M8 is so popular is that it delivers a strong nicotine hit without being harsh on the throat, like some other devices can be. This is thanks to its use of nicotine salt instead of freebase nicotine, which is why Mon M8 vapes are only available in 5% and 3% nicotine strengths.
Finally, the Mon M8 has great battery life for a disposable device; it contains 500mAh battery power. Each Mon M8 disposable vape contains enough liquid for around 8000 puffs, which should last most users a full month.
How Many Flavors are in Number 1 Disposable Vape
Mon M8 disposable vape is available in 15 new flavors that are apple blueberry Raz, pina colada, orange mango guava, cool mints, strawberry raspberry blueberry, peach mango watermelon, pineapple passion fruit orange, mango banana orange, kiwi passion fruit guava, strawberry banana Ice, strawberry kiwi, and flavors without mix fruits are grape, blueberry, mango, and watermelon. You can see all the details regarding Mon M8 number 1 trending disposable vape. It's very easy to order the vape anywhere in the world. 
The Pros and Cons of Disposable Vapes
Disposable vapes have become increasingly popular in recent years, especially among smokers who are trying to quit. But what are the pros and cons of disposable vapes?
On the plus side, disposable vapes are very convenient. They come pre-charged and ready to use, so you don't have to worry about carrying around a separate charger or batteries. And because they're disposable, you don't have to worry about cleaning them or maintaining them.

However, there are also some drawbacks to disposable vapes. For one thing, they're not as eco-friendly as reusable vapes because you're throwing away the entire device after just a few uses. Additionally, they can be more expensive than reusable vapes in the long run.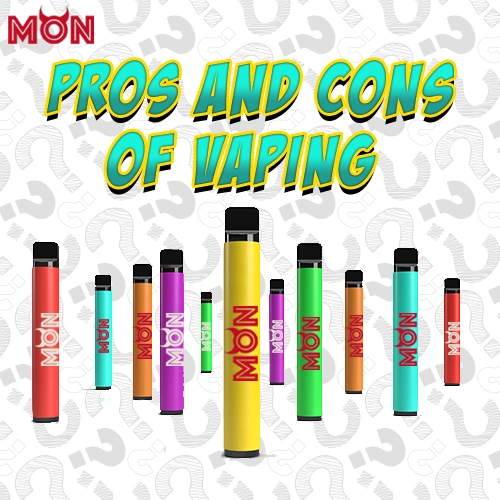 And finally, because they're disposable, you don't have as much control over the vaping experience (such as temperature and airflow) as you do with a reusable vape.
How to Choose the Right Vape for You
There are a few things to consider when choosing the right vape for you. The first is what type of vape do you want? There are three main types: cigalikes, Mods, and Vapers.

Cigalikes resemble traditional cigarettes and are the simplest type of vape to use. They consist of a battery and a cartridge filled with nicotine, propylene glycol, and flavorings. Cigalikes are disposable and can be found at most convenience stores.

Mods are more advanced than cigalikes and allow you to customize the look, feel, and performance of your device. Mods can include features like variable wattage and temperature control. You can find mods online or at some vape shops.

Vapers are the most advanced type of vape and allow you to customize the flavor, nicotine strength, and vapor production of your device. Vapers can also buy devices that allow them to use refillable tanks. You can find vapes online or at some specialty shops.
Conclusion
If you're looking for a disposable vape that will give you the most bang for your buck, look no further than the number 1 disposable vape on the market. This vape offers a great price point, a variety of flavors to choose from, and long-lasting battery life — all of which make it an ideal option for anyone looking for a hassle-free vaping experience. So what are you waiting for? Try our number 1 Disposable pods like Mon Mira Pro 5000 Puff Vape at wholesale price.